Rendering Is Easy With IRender nXt
Seamless Integration
The IRender nXt plugin runs inside of Google SketchUp, making it easy to create and visualize renderings using already familiar functions. IRender nXt's features include 500 fractal plants, 5,000 high quality materials, advanced material settings and more.
Expert Renderings
Exceptional realism is the key to clear communication of your designs.
With IRender nXt, you can fine-tune the lighting, transparency, reflection, highlights and backgrounds of all your images, then export the renderings at unlimited resolution and render quality.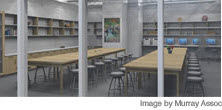 Consistent Results
IRender nXt gives you an early image of your design rendering, so you can decide immediately if you need to make a change to the view, lighting or a material. The software's savable settings and post-render processing features allow you to update your design without starting over.
Download A 30-day Trial of IRender nXt
Try IRender nXt for free. Our 30-day trial version is fully
functional, and ready to render out of the box.

compatible with 32- or 64-bit Windows operating systems
Have Questions? We're here to help
Contact us at sales@renderplus.com or call 303-713-1401